Top 10 Romantic Restaurants at the Coast
The Coast has many romantic restaurants. I share top 10 romantic restaurants that you will find at the coast
Every week I share a destination guide and hotel review on my Youtube channel
The Kenyan Coast is one of the most popular destinations both for Kenyans and foreign tourists. It has beautiful beaches from Diani, Chale, Watamu, Malindi, Wasini and Kilifi the list is endless. The Kenyan coast offers much more than beautiful beaches, in here you will also find a wide range of restaurants and narrowing down to one to choose from while in any of these areas can be a daunting task. Here is a compilation of the most romantic restaurants you will find in these amazing destinations.
Did I miss a romantic restaurant on the Kenyan Coast? Share your favourite restaurant in the comments section below.
10. Peponi Hotel, Shela Village – Lamu Island
You can watch my video guide on things to do in Lamu here
This hotel is a landmark hotel that was established in 1967. It is owned by the Korschen family. One distinct feature is the whitewashed walls, a verandah that has beautiful bougainvillaea and in addition, it is adorned by historic photos on its walls.
Peponi has a seafront restaurant with amazing views of the Indian Ocean. The hotel has a delicious menu and yummy dishes. As you have your meal you can sightsee dhows cruising up and down the channel as you enjoy your meal.
Book this hotel: Peponi Hotel, Shela Village Lamu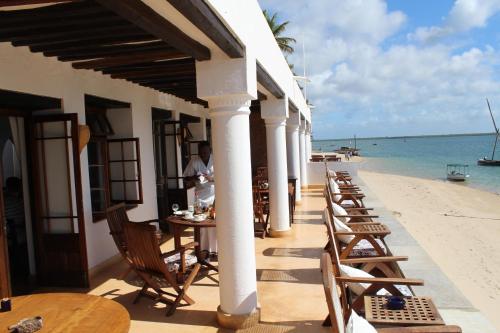 Tip: They have a signature cocktail known as Old Pal. They also have an amazing Thai Fish Soup, prawns in brandy and beef carpaccio. The menu is so versatile with a lot to choose from.
Check out this virtual video guide on things to do in Lamu
9. Ali Barbour's Cave – Diani
This is one unique restaurant that's set in a cave along Diani Beach. The restaurant, named after an exotic Arabian hero has done a great job of evoking myth and mystery for any guest having a meal here. Take a walk down a staircase past rocky alcoves to find yourself in a lamplit cave. This restaurant has a rich menu from seafood that has been harvested straight from the Indian Ocean, to a great selection of vegetarian meals and a wide selection of meats that give a guest lots of meal options.
Restaurant Website: Ali Barbours Cave
Tip: Try Ali's drunken prawns, if you are a vegetarian you can also try the vegetable tagine with almond and chickpea couscous. There's also the deep-fried Camembert with cranberry juice. If you love meat, try out their beef fillet stroganoff
Looking for a place to stay in Diani? I share 3 benefits of staying at Jacaranda Indian Ocean beach resort including a virtual video tour
8. Monsoons – Mtwapa
The Monsoons is a hidden gem tucked away in Mtwapa. It has the appearance of a relaxed beach in the restaurant. The food is nothing but exquisite. A guest can look across the beach and the ocean. While here you get the sense of being marooned in a desert island.
The seafood is fresh as fishermen bring their catch directly to the restaurant. In addition to seafood, the menu also has a selection of pasta, meats and curries. These can also be served with rice and vegetables. One thing to note is that the restaurant is closed on Mondays.
Restaurant Website: Monsoons Mtwapa
Tip: Try out the monsoon's seafood platter for two. It comprises of the freshest lobsters, red snapper, octopus, crabs and squid all grilled to perfection
7. Nautilus – Kilifi
What is amazing about Nautilus is the impression it gives you, like you are having dinner in a boat. Surrounded by on three sides by water, you can hear the waves lapping beneath as you enjoy the ocean breeze. The menu here fuses continental cruising with exotic specials. The ambience is that of a romantic atmosphere with groovy background music. Note that this restaurant is closed on Mondays.
Website: Nautilus Restaurant – Kilifi
Tip: Try their oysters harvested fresh from the coral rocks and noodles with lemon crab and cherry tomatoes, with prawn madras.
Kilifi has some amazing beach resorts. Check out this video with Top 10 hotel recommendations in Kilifi
6. Floating Restaurant – Lamu
The Lamu Floating Bar and restaurant is located in the middle of the Indian Ocean, in between Shela Island and Lamu Old Town. This bar is created in a unique way in that it is made from pontoons and over 200 plastic drums like structures which makes the restaurant stay intact in one place.
It is built near a mangrove to prevent the winds from blowing it. There is a bar with drinks put in ice coolers because there is no electricity. The restaurant mainly contains sea food and the local Swahili and Kenyan popular dishes such as nyama choma.
They also offer fishing services, if you love fishing, you can come over to the restaurant, catch the fish and then prepare it. As you have dinner you can also enjoy the sunset cruise with amazing views of the sunset over the ocean.
Watch as we arrive at the floating restaurant in Lamu – simply an amazing experience.
Restaurant Website: Floating Restaurant – Lamu
Tip: The best time to visit is when the tides are low to get the most out of the sunset cruises
5. The Sands At Nomad – Diani
Book Now: The Sands At Nomad
This is a boutique resort located along Diani Beach. Diani Beach is one of the most popular beach destinations in Kenya. This resort not only has individually designed cottages in a lush jungle garden but an amazing beachfront restaurant.
The restaurant has an extensive menu of sushi, soups, healthy platters. This restaurant is the place to lean back, relax on a cushion and gaze over the white sands and sparkling water overlooking the Indian Ocean. It has a sizeable wine list too.
Tip: Some of the amazing meals to explore in their menu include: rainbow uramaki, yellow finned tuna tartar and the chicken citrus salad. They have a wide selection of pizzas that you can explore too!
Diani has some amazing and beautiful beach resorts. Check out this video with top 10 recommended hotels in Diani
4. The Tamarind Dhow – Mombasa
*** Get the most out of your trip to Mombasa with my online Guide to the Best of Mombasa**
Why sit at a restaurant when you can dine while sailing along the coast? This is what the Tamarind Dhow is all about. Setting sail from Tamarind, this restaurant allows you to relish on its signature dishes while gazing over the ever-changing vistas.
They have two wooden dhows to choose from, with a lunch and dinner option. The lunch cruise moors in a bay while on the dinner cruise, the chef prepares his seafood on deck under the watchful curious eyes of guests. As the night grows on music and dancing continues.
Restaurant Website: The Tamarind
Tip: Try out their amazing sea food platter
3. Tamarind – Mombasa
This is the first property of the Tamarind Group. The restaurant was begun in 1972. It has been popular since then owing to its versatile and creative menu that includes seafood dishes. The menu also includes a wide array of vegetarian and meat options too. The restaurant gives guests a view of Fort Jesus. One feature to explore and enjoy is having cocktails as you watch the sunset.
Book Now: The Tamarind
Tip: Their ginger crab is amazing, other meals to try out is the prawns Piri Piri, seafood laksa and the double-cooked pork belly.
Here are videos with the top recommended hotels in Bamburi and North Coast Mombasa
2. Moonrise Restaurant -Lamu House Hotel
Located in Lamu town, this restaurant is a tranquil location. It is raised on an attractive verandah and while here you can watch dhows coming and going, traders loading and offloading and donkeys being loaded too. The food here is fresh and delicious. An amazing thing is the aspect of gazing away at the hustle and bustle of the activities happening by the shores. The restaurant has the Thursday night live Swahili music and there is a barbecue served on Thursdays, Fridays and on Saturdays.
Book Now: Lamu House Hotel
Tip: Try out the jacket potato, fish tacos with mango salsa, broccoli pesto spaghetti and the eggplant tower milanese
Looking for places to stay in Lamu? Here is a video guide with compilations of the top recommended hotels in Lamu
1. Sea Whispers Inn – Watamu
This is a beautiful accommodation set right at the heart of Watamu. It has a restaurant that overlooks the main road. An amazing place to have breakfasts, lunches and dinners in a chilled and relaxed atmosphere. They serve an amazing heavy breakfast that includes traditional Swahili dishes with a mixture of English and Italian menus.
Tip: Try out their amazing Swahili breakfast. It comprises of kaimatis, beans in coconut sauce, eggs prepared to your liking and freshly squeezed juice. This is accompanied by either tea or coffee.
Book Now: Sea Whispers Inn
Check out these beautiful homestays in Watamu